The Merry Marching Band
Incredible musical clownish performance
Opus Award for Production of the Year–Younger Audiences
Underpantsburg is home to a band, or fanfare unlike any other. Under the guidance of a pompous band leader by turns bossy and bird-brained, this merry band sets out to see the world. With plenty of humour, no small amount of eccentricity and a touch of poetry, the band of music-makers makes its merry way—with a honk and a toot and a rat-a-tat-tat—from Quebec to Brazil to Ukraine and back, with a stopover on Planet Mars!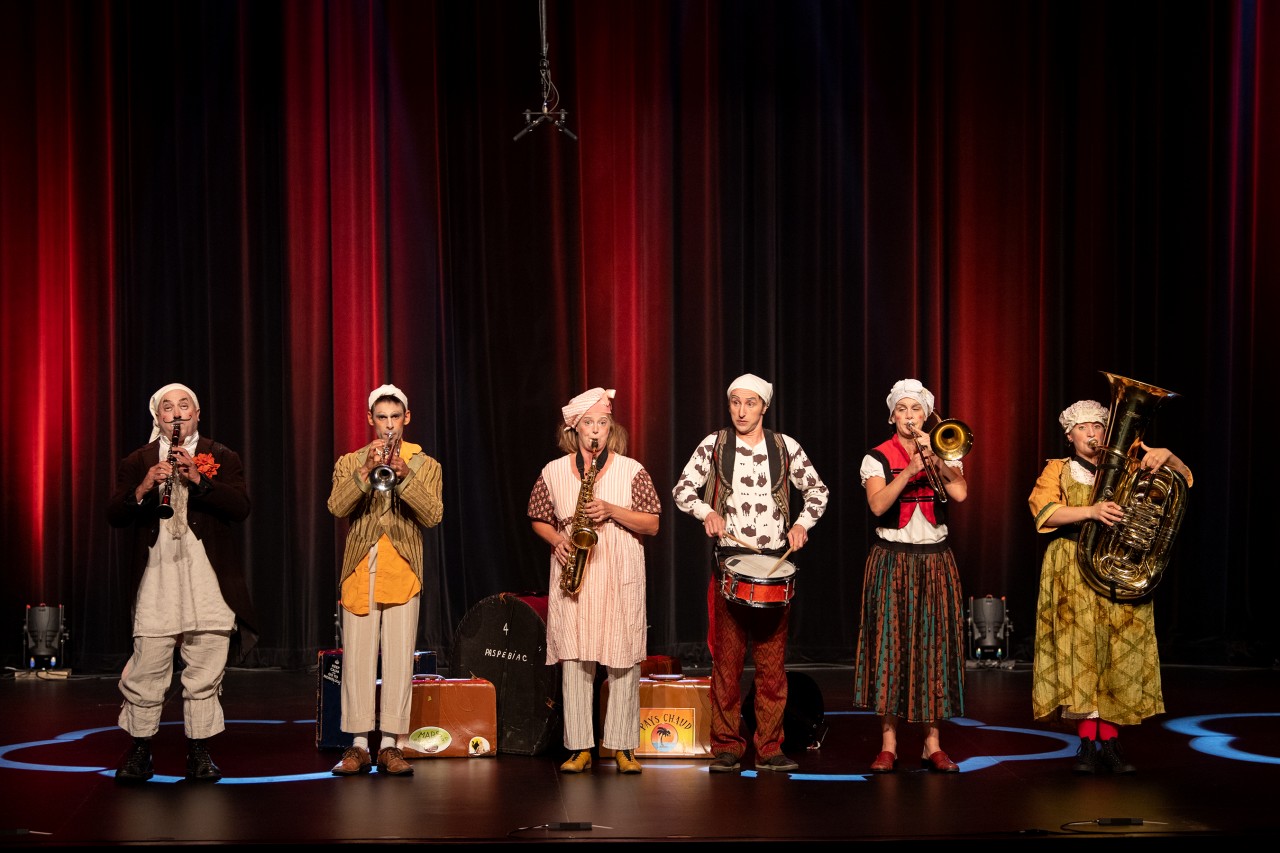 In a resolutely modern performance that combines world music with the clown arts, The Merry Band introduces young audiences to brass instruments and even a little body percussion.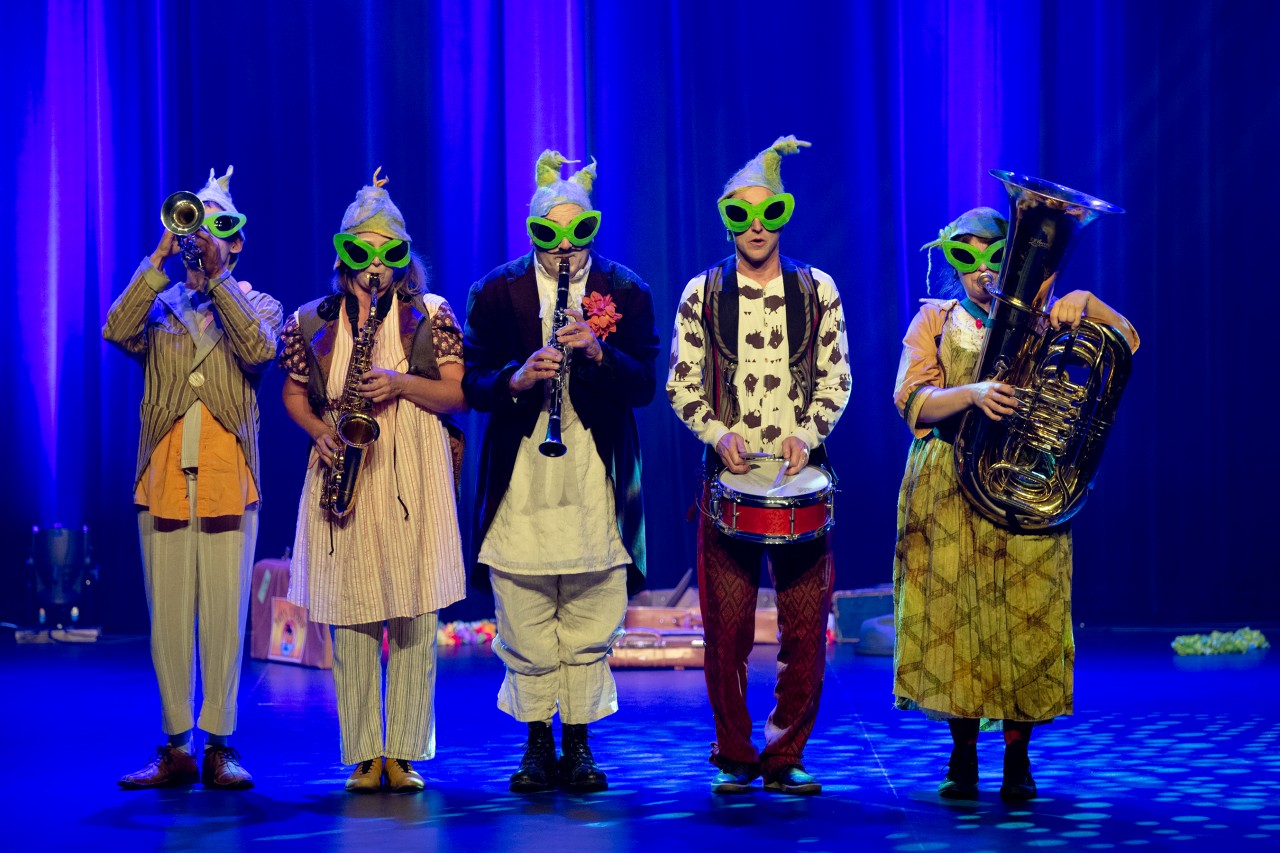 Set to playful choreography, each number celebrates the music of a particular country, with zany antics and talented musicians making for a fun, discovery-filled performance that will leave kids eager to embark on a musical journey of their own.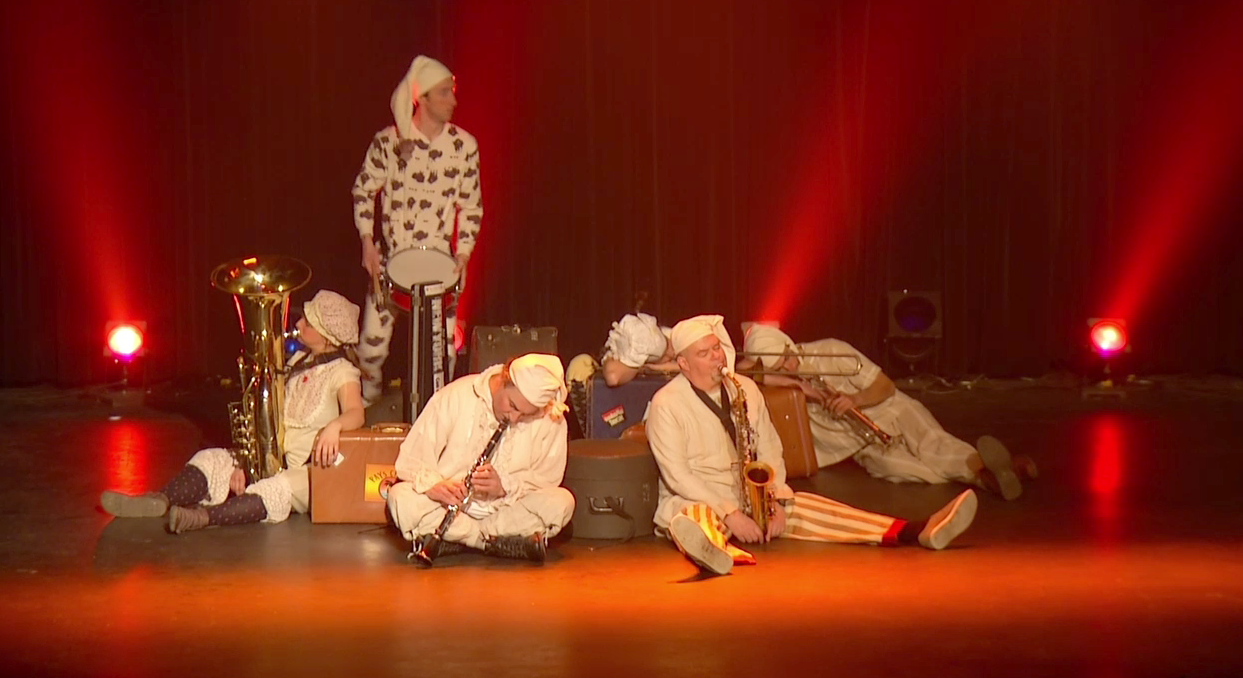 Performers
Clarinet: Pierre Langevin
Saxophone: André Larue
Trumpet: Simon Tremblay
Trombone: Dominique Poirier
Tuba: Julie Houle
Snare and Body Percussions: Olivier Forest
Musical director: Pierre Langevin
Staging: Geneviève Kerouac
Costumes and props: Huguette Lauze
Makeup: Nathalie J. Simard
Comments from Presenters
"I've nothing but good things to say about The Merry Band and the tour team. In 40 years of presenting shows for schools, the show is in our top 3 for best reception.Children and teachers enjoyed watching a show that not only taught them a few things, but that had them moving around, laughing, and taking part, too. Well done to everyone involved, it's just wonderful!"
Louise Meunier,Salle Sapinart (Sapinart Hall), September 2018
"I loved it. The children were swept off their feet."
Sophie Laurent, Montreal Symphony Orchestra, August 2017
"The children were overjoyed. A huge thank you to the whole team behind The Merry Band. It was such fun."
Flora Boies, Grande Bibliothèque de Montréal (Montreal Library) March 9, 2017
"The Merry Band was of great interest to our school partners. We had no hesitation at all about putting the show on our 2017-2018 calendar."
Caroline Beaudreault, Artistic Director, Head of School & Family Programming, Juliette-Lassonde Arts Centre, Saint-Hyacinthe, May 2, 2017
"We had nothing but positive feedback from teachers. Not everyone is capable of combining music and the clown arts so brilliantly. The children couldn't get enough of it. I recommended The Merry Band wholeheartedly."
Béatrice Zacharie, Head of Youth Programming, Palais Montcalm (Montcalm Performance Hall in Quebec City), May 12, 2017